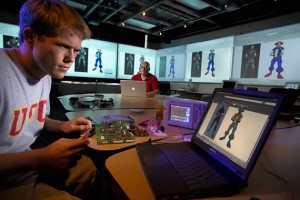 In a fast-growing and increasingly competitive gaming industry, a graduate degree in game design can help potential job applicants leap ahead of the competition and land some of the most exciting work in high-tech. These degrees, which are a relatively recent development at the colleges and universities that offer them, are designed to give students a greater sense of design best practices and the cutting-edge, advanced technology that will continue to transform the gaming experience for many years to come. Though not required by most design jobs, graduate degrees in this field will certainly be an asset during recruiting, hiring, and management of staff at some of today's biggest gaming firms and design studios.
The Master of Science and Master of Fine Arts
Because graduate degrees in gaming are a relatively recent development, there is no set standard on what to call these degrees or how to award them. Many schools have therefore settled on either a Master of Science, indicating a field of applied and practical study, or a Master of Fine Arts, which indicates a course of study more focused on the visual appeal and design process. Both degrees are relatively aligned in terms of their core curriculum and student outcomes, with advanced work in 3D modeling and rendering, leading software applications in game design, team management at a design firm, and best practices for mastering movement, shadows, lighting, and realistic effects. The degrees available to students can be specialized in several key concentrations within the gaming industry.
1. Game Development
This broad program is designed to cover the wide array of skills necessary to program and design a game from start to finish. Often designed for students who have a limited background in gaming or visual design, the coursework includes basic "foundation" classes in design as well as more advanced classes in rendering, movement, best practices, and the software applications used to design today's game characters. Most development programs are also multi-platform in nature, specializing in desktop, console, and mobile gaming, so that graduates can work in any industry niche. This is perhaps the best and broadest choice for any designer, whether they're experienced or just beginning a career transition to this area.
2. Advanced Gaming Design
Another option for students is a degree that focuses specifically on the design and artistic skills needed to create compelling "worlds" and realistic experiences on mobile devices, desktop computers, and gaming consoles. This degree is typically targeted to students who studied some form of design at the undergraduate level, whether it was graphic design, designing games, or other similar fields, like photography and videography. For this reason, coursework begins at the advanced level, with students immediately immersed in today's leading design applications. Applicants are expected to have a basic understanding of major software applications and animation. They will enhance these skills by focusing on more lifelike animation and sound management of design teams at major firms.
3. Games and Playable Media
Another avenue for designers with an eye on advanced education is a program in games and playable media. This Master of Science program certainly teaches advanced animation and game development issues, but it also teaches the structure of the industry, the history of gaming, and the high-tech platforms that are driving games into the next generation. A more theoretical approach than the other two degrees, this is an excellent fit for someone who wishes to understand the academic side of their profession.
Three Great Choices for Game Designers
Designing modern games is a very advanced task, with unique software tools and best practices that can make or break the aesthetic appeal of a gaming environment. As a result, students should choose the graduate degree in game design that covers the widest assortment of technological tools, practical skills, and academic connections across the gaming, media, and entertainment industries.