Open courses for online game design just might be the thing that helps launch your career. While these courses typically won't gain you credits toward a degree, you work with people who have experience working for some of the best video game development companies in history. MIT and Tufts University are just two of the colleges that offer open courses. You can enroll in those courses without paying a dime for tuition, and you'll get access to the same resources as traditional students.
How Open Courses Work
The top open courses for online game design operate in a similar way to traditional online courses. When you decide to take open courses, you register an account with the school. You then log in with your email address or user name and your password. The schools let you select one or more open courses to take.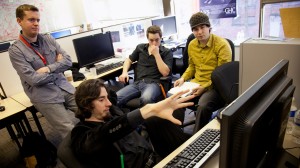 Once you select a course, you get access to lectures filmed on campus, notes offered by students and professors and even assignments that you can complete as the course progresses.
Open Courses vs. Online Degrees
Video game design is a hot topic, and many students want to know how they can gain a foothold in this industry. While some designers find success building and creating their own games for use with smartphones, tablets and computers, others find themselves building game after game and barely making enough money to pay for the time they put into those games. Before deciding what you want to do, you need to decide if online or open courses are right for you. According to Kelsey Sheehy, nearly seven million students took one or more online courses in 2011 and that the number of students taking online courses increased for 10 straight years. Earning a degree online takes more of a commitment on your part, and you'll need to take tests, complete assignments every week and discuss your work with other students in your class.
Benefits of Open Courses
Open courses for online game design are a good option for those hoping to gain more experience before committing to a degree program. Those courses give you a better understanding of new software and programs, how to identify the needs of the market and even how to advertise your games once you finish designing those products. Many students also take open courses as a way to refresh themselves before enrolling in a degree program.
Types of Game Design Courses
The types of online game courses now available are similar to the same courses you would take at college. Many schools offer an introduction to computer science course, which teaches you the fundamentals of how computers operate and what you can do with those machines. You also have the option of taking classes on introduction to game theory, introduction to game design and more advanced courses designed for those with a little more experience.
While open courses might not let you earn a degree in game design or computer science, those courses can help you learn more about designing and marketing your own games. Open courses for online game design are free courses designed for anyone with an interest in designing new games.
Related Resource: Pre-requisites for Majoring in Online Game Design