If you love playing online games, a career as an online game designer could be the dream job for you! Online game designers are responsible for planning and creating the worlds in online video games. Individuals with degrees in game design are employed by high-tech companies all over the world to design games in the ever growing, highly lucrative online game market.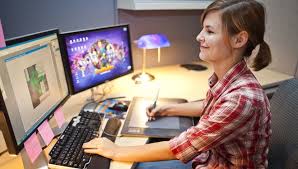 What Do Online Game Designers Do?
Online game designers plan all of the details in their online video games. Their responsibilities include
Defining and outlining the online game
Developing the characters in the game, the setting and story line, props, vehicles, and weapons; they even design the rules of the online game.
Working with all team members and oversee the project to ensure each phase of the game's development meets applicable deadlines.
Making necessary adjustments to the game throughout the development process.
Assist the training of game testers so they can properly examine the finished game.
How To Become an Online Game Designer
Candidates for careers as online game designers should be interested in software, video games, and IT. Online game designers
Work well under pressure
Are able to work as a team player
Are creative and insightful
Can communicate and problem-solve
Have fluency in a variety of software programs
Understand online game marketing demographics
Stay up to date with trends in online games.
Many online game designers have degrees in a related area. These degree programs include
Computer Arts
Computer Animation
Game Art and Design
Game Design and Production
Game and Simulation Programming
Software Development
and Information Technology with a concentration on Game Development and Design
Though a degree is helpful for entry into a position as an Online game designer, many game designers learn even more valuable skills from their mentors once they've entered the field. Learning from the best provides some online game designers with the skills they need to advance in the world of online game design, eventually leading them to careers as lead online game designers, coming up with innovative ideas for the hottest new online games.
What Do Online Game Designers Earn?
Experienced online game designers bring home very good salaries. For example, as of March 2014, game designers at Sony Online Entertainment were reported to make over $56,000 per year; and game designers at Microsoft were reported to make over $100,000 per year. Game designers at Playdom were said to be bringing home over $60,000. With the right education, skills, and creative edge, you could have a very lucrative career as an online game designer working for some of the hottest tech companies around the globe.
What are you waiting for? Do you love online gaming and think you have what it takes to be one of the next great online game designers. Take the first step by checking out programs in your area that can give you the education you need for your new career as an online game designer.