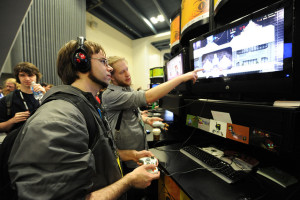 If you have a passion for console gaming, visual arts and software development, you may be interested in learning about the role of the game developer in video games. Game developers working within the video game industry play a crucial role in the design and the creation of their own games or games that are released by large publishers. Several different titles can be used to describe a professional in the industry that do some of the same duties as the developer. These titles include: game programmer, game artist and game designer. If you would like to learn more about the developer's role in video game development team, read on to find out what they do.
What Are the Job Responsibilities of Video Game Developers?
As a professional who is responsible for creating video games, the developer is in charge of several different aspects of game creation. These aspects might include developing the story line to be used in the game or coding the software so that the game can function properly. Since developers can work in design, visual art, software programming and creative production, their duties can range. What your job responsibilities are in this role will depend upon the area of work that you choose.
Some of the job responsibilities of a developer include: designing role-playing mechanics, making prototypes, documenting the development process, conducting design reviews with the team, writing character biographies for the story line development and more. Entry-level professionals will be in charge of the small programming elements while the veteran developers within a professional team will take on more complex issues.
Where Do Video Game Developers Work?
Video game developers work in a variety of settings. They may take on their own small projects for recreation or to build their portfolio. These games can be pitched to large publishers or through mobile apps. Today, the most profitable way to enter the industry is to work in a role directly with a publisher as part of the development team. As an in-house studio employee, you will receive benefits, a larger salary, funding for items you need, and sometimes even a bonus. Competition to work for some of the larger studios is very high.
Job Outlook and Salary Potential
The salary range for developers is very wide. You can earn between $55,000 and $110,000 per year based on the region and setting that you work in. Since video gaming is such a large industry that only continues to grow, there is a need for a vast number of jobs being created. In fact, the video game designer is projected to have 10-year growth of 27.6%, according to CNN. While there is a lot of projected growth, you must have a flair for system design and knowledge on the latest practices to land a job.
Related Resource: JavaScript
The very first step to becoming a developer in video game design is to gain expert knowledge of programming language. Programming is self taught to some extent, but to get formal knowledge you will need to enroll in a formal degree program. It is advised to study for a bachelor's degree in a computer-related field to learn programming language and other elements of design. Once you do this you will have to practical skills needed to be a game develop in video games.