If you talk to computer science students, most of them will tell you that their main interest is video game design, and to encourage this interest in science and technology, several opportunities to enter a game design competition are available. The biggest competition for college students is the Independent Games Festival, or IGF, which has a student contest that anyone can enter.
Entering a Game Design Contest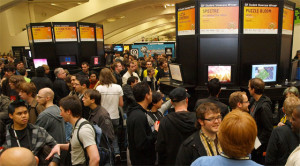 IGF is open to game designers all over the world and awards $50,000 in prizes to first-place winners. This gathering is probably the most conventional game design contest, but there are a few others that also award prizes for student designers.The Chi Play competition and Microsoft's Imagine Cup, which is more oriented toward programming than design, also give students a chance to show off their skills. The best way to enter a competition is to create a game with other students.
While there are no rules for the structure of a game, a good approach is to model it after other games with a simple, accessible style. A common pitfall for student designers is to get overly ambitious, but because these developers are still learning and have very little experience, they can find themselves with a huge pile of code that barely works and an art direction that is murky and askew. These problems generally prevent games from winning competitions, but student designers can avoid them by keeping their designs simple and easy for others to understand.
The first decision you need to make is about the story, which should be very simple and conventional because it forms the basis for the rest of the artistic direction. If you are a very creative designer and believe that you can make a unique game, you should still use a simple, conventional starting point because it will prevent your ideas from becoming confused and unusable. Your creativity will show through in the direction you take with the game, but if you're trying to be too clever with the concept, unless you're brilliant, you'll probably end up with something that isn't very fun to play and basically irritates the judges.
Developing a Video Game
Professional game studios use an iterative design process, which means they produce successive versions of a game until it gets to the point where they like it and think they can sell it. This process is necessary when a team of people are building a piece of software that can behave in many unforeseen ways. Even big-budget games, like Grand Theft Auto V, take hundreds of people several years to complete.
You can use a game-development framework like Unity3D, Unreal or CryEngine and make your graphics using free software like Blender. Because IGF is a popular contest open to developers from all over the world, some of the entrants are pretty good, and the winners are usually designing almost on a professional level. Even if you don't win first prize, it's still a great experience to work on a team making a game, and you will definitely become a better designer in the process.
Video games are becoming more popular as more people have devices to play them. If you're a student developer, gain experience and improve your skills by entering a game design competition.