Many of the best engineering schools make their game design students attend conventions throughout their time in an undergraduate program. These conventions are extremely beneficial to new and aspiring game designers, especially when they're learning those skills in a classroom setting. Conventions offer real networking opportunities with industry leaders; hands-on experience with game design, development, and deployment; and excellent keynote speeches from some of the leading minds and talents in the gaming industry as a whole. Students also learn about the cutting-edge developments in the industry, from mobile to movement-based gaming environments and much more. The best conferences pair hands-on learning experiences with networking and highlights of future developments.
1. Game Developers Conference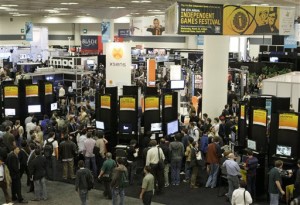 There is perhaps no conference larger than the Game Developers Conference, hosted each year in San Francisco's Moscone Convention Center. The conference brings together the absolute biggest names in game and console development, from Nintendo and Sony to Microsoft and Rovio. The conference spans an entire week, with keynote speeches each day that highlight company's newest products about to hit the market. At booths throughout the convention center, game design students will be able to test games, speak with other students, network professionally within the industry, and test their own ideas about what constitutes a great game or a compelling future development.
2. Congress of Gamers
Hosted each year in Rockville, Maryland, the Congress of Gamers convention is a must-attend event for designers and design students in the Washington-Baltimore metropolitan area. Unlike the Game Developers Conference, Congress of Gamers features a large selection of upstart games and unpublished games, which allows designers to see how a work-in-progress game goes through development, testing, and early publicity. Networking opportunities abound, with major executives typically lurking about the convention in search of the "next big thing."
3. Gen Con
Gen Con is the oldest gaming convention in the world, and proudly boasts a total attendance of more than 500,000 unique individuals since its inception. Its status as the oldest convention in the entire industry makes it a must-attend event for major industry executives and aspiring developers alike. Students will, of course, get excellent networking opportunities at the event. More than that, though, they'll be able to listen to keynotes about current game development and its interaction with emerging technologies. They'll also get a significant amount of historical context from some of the more seasoned attendees who make time for this established event.
4. BGG.Con
Hosted each year in Dallas, BGG.Con was inspired by Gen Con when it began. Today, it's one of the fastest-growing gaming conventions in the country for designers and executives. The regional flair of BGG.Con makes it an especially attractive event for design students throughout Texas and the southwestern portion of the United States. This also enhances its potential for networking and education when design students attend the event as part of their undergraduate program in the field.
Four Great Conventions for Game Design Students
Game design is one of the hottest fields in technology, with an increasing focus on everything from tabletop games and consoles to mobile devices and virtual reality. Among all of the resources available, one of the best way for students to get a sense of what the industry is looking for is to attend at least one major convention during their time in a design program. Universities make their game design students attend conventions precisely because of their educational and professional potential, no matter how large or small the event.