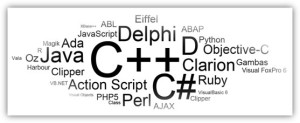 The computer game niche market is one of the fastest growing forms of entertainment in the world, and aspiring game developers of all ages are interested in the computer programming languages used in video game design. Besides the games' sheer entertainment value, video games are also used for more serious purposes. For example, today's primary and secondary school teachers are being trained to incorporate game technology into their lesson plans. Some professions use video games to provide realistic, cost effective training. Also, aging adult learners extensively use brain teaser video games to help them to maintain their mental faculties. The demand for these games has grown, and user expectations for game quality, realism and speed have increased as well. Here are some of the programming languages that help video game designers keep up with trending industry demands.
Game Design Languages for Personal Computers and Gaming Consoles
After the creation of a game's design document, many game developers use the object oriented languages of C++ and C# to program console video games that are to be used offline. These programming languages are also top picks for games that are designed to run on Windows-based personal computers (PCs). The integrated development environment (IDE) that programmers use are also platform specific, and games that are to be used on Windows platforms are developed within Microsoft Visual Studio. Objective-C is a popular programming language that is used for video games that are designed to run on Mac operating system platforms, and IDEs that supports Objective-C coding for Mac platforms are Xcode and AppCode.
Programming Languages for Internet Based Games
Online games connect players over the Internet and can be designed to operate on PCs and specialized gaming consoles or on mobile devices like Apple's iPhone and Samsung's Android. Some common programming languages for online games are Java, Javascript and Flash. Besides Objective-C, iPhone mobile gaming applications can be developed in Unity. Mobile applications developed for use on Android devices are commonly written in OpenGL. Alternately, Python is also used to create online games. Python is an object oriented scripting language that is versatile enough to be used across multiple computing platforms and environments via its customized interpreters. The language's design paradigm enables programmers to maintain quality and performance using fewer lines of code than C++ or Java. The universal nature of Python and its relative ease of use make it a popular choice among professional game designers and developers.
Languages for Graphic Rendering
Simple graphics in computer games and web design are nearly a thing of the past as most users expect to see more realistic scenes in their computer graphics. Although the resulting vividly creative graphics may look like works of art, there is some serious science that supports those crisp, realistic looking scenes. The optical measurements that are used to create modern digital pictures allow programmers to place objects in simulated 3D environments, according to the National Institute of Standards and Technology. Autodesk's Maya application is used to create, model and render interactive 3D visual effects, and video game developers use the application's scripting language called Maya Embedded Language to customize some of the application's functions. Maya supports Linux, Mac and Windows operating system platforms.
Related Resource: How Business Intelligence is Used in Gaming
Conclusion
There are many factors that affect what language video game designers use to create their digital works of art. The computing platforms, gaming hardware devices and skill levels of designers help to determine the computer programming languages used in video game design.