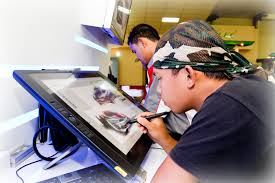 Students who successfully translate artistic skills into game design often enjoy amazing job opportunities in the industry that places those skills at the forefront of game development and strategy. Increasingly, students with an artistic inclination are being encouraged to take advantage of more artistic high-tech developments, like game, graphic, and web design, that help them refine and market these skills in a way that is useful to today's economy. The challenge of doing this, in many cases, is turning more conventional art skills into animation, illustration, and story skills that are useful for game development firms.
Start with a College Degree in Video Game Design
It might sound like it's simply too fun to be a video game design major, but that hasn't stopped millions of people from pursuing it on their own. The major in video game design is increasingly big business at campuses all around the world, where students translate their artistic talents into animation and illustration skills for the gaming world. Courses teach students how to create textures and canvases, how to apply light and shadows to create more natural landscapes on the screen, and how to give their game a more natural feel through innovative movement and animation processes.
Throughout every part of this degree program, video game design students are paired with the leading software that makes gaming possible. They learn to use entire software suites that translate brush strokes to cursor swipes, creating rich characters that look and act as if they're real people in the gaming environment. It's an exciting major, and one that has placed a consistently large percentage of students into lucrative game design firms around the world. These firms include everyone from Microsoft and Nintendo to Electronic Arts and Rovio. All of them value the skills that come from a game design program.
Find an Internship in Game Design to Harness Artistic Skills
The best game designers are those with a natural talent for artistic expression, but that expression must be harnessed and translated appropriately so that it works within the gaming world. While college programs are a good start as students pursue a career in game development, these programs don't represent the full scope of talents and experiences needed to succeed in the growing gaming industry. Students should also be looking for internships at major gaming development studios or console manufacturers where they'll be able to translate their classroom experiences to real, hands-on creation of game environments, characters, and engaging story elements.
These internships also help students establish a professional network, which can help them land their first position in the industry. Entry-level jobs are easiest to find when students have a degree, practical experience, and networking connections that help them hear of the position long before it's been made widely available to the full design community.
Artistic Skills are the Basis of a Great Gaming Experience
Artists today have opportunities to translate their skills into the public space more easily and lucratively than ever before. Those who have a passion for gaming, or simply want to turn their artistic vision into an immersive world for gamers internationally, can easily find college programs and internships that allow them to use their artistic skills in game design.