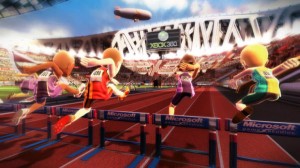 Finally, a scientific basis for spoiling your kids with a new Xbox Kinect system.
It seems like a no-brainer to us, but this study shows the similarity in energy expenditure between active video gaming like Wii and Microsoft Xbox Kinect and "real" exercise, suggesting the health benefits of this activity.
Researchers at The University of Western Australia, Liverpool John Moores University, and Swansea University concluded that "high intensity exergaming elicited an energy expenditure equivalent to moderate intensity exercise; low intensity exergaming resulted in an energy expenditure equivalent to low intensity exercise."
They based their findings on a study of 15 children ages 9-11.
Participating in high-intensity games like Kinect Sports – 200m hurdles led to increased heart rate and the amount of energy burned.
"Higher intensity exergaming may be a good form of activity for children to use to gain long-term and sustained health benefits," said Dr. Louise Naylor.
Elsewhere, researchers have identified the brain-benefits of playing video games, especially violent video games.
Five proven benefits of gaming include:
Improved Dexterity
Better Eyesight
Better Mood
Weight Loss
Faster Reflexes
Video games have also been shown to be a means of helping kids get better grades.
You won't find us objecting to these conclusions.